"Risk Taking is Free"
CEO Business Visits
CEO Guest Speakers
---
Dowson Farms
with Darryl Thoma and Chris Dowson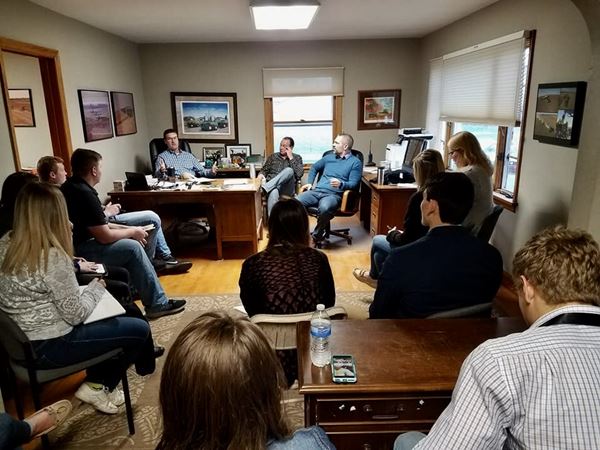 Chris Dowson and Darryl Thoma spoke with CEO about the farming industry and their meteoric rise in recent decades. Many farms have grown over the past few generations to survive while Dowson Farms has grown to thrive. Chris Dowson explained that sometimes success involves luck, to which his brother-in-law, Darryl Thoma, replied, "while luck also comes to those who are positioned to make the most of it." The Dowsons capitalized on fixed interest rates during the 80's when variable interests rates soared and put many farms out of business. Chris explained that steady and consistent leads to more success than cheaper and faster. Darryl continued that steady planning includes financial solvency for which a business can absorb unexpected expenses such as a broken down tractor and lost labor or building capital to purchase additional ground or equipment.
Peyton Tester revisited the tour in his work summary, "Speaking with Dowsons on Tuesday was incredible. It's crazy how a family farm that was started in the 1930's can grow to the size they are now in a few generations. Chris and Darrel explained to us how they manage all their employees and how the communication line works. They also talked to us about the technology they use and how they maximize efficiency with there precision farming techniques. When asked how they have continued to grow, Chris replied, 'all it takes is a spark and after that it's all a snowball effect.'"

---
Visiting Nokomis Auto Body
with Lucas Jachino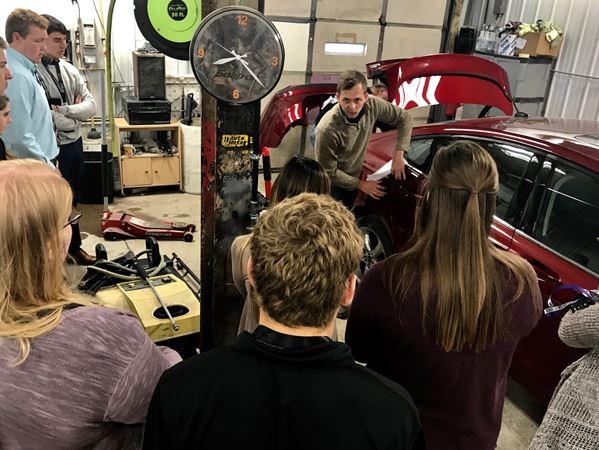 Lucas invited CEO to tour Nokomis Auto Body as well as his other startup businesses in towing and auto sales. Lucas started the tour by reviewing Kyra Bishop-Jacobs' car which hit a deer. He explained the process of recording, itemizing, and forwarding a claim to insurance companies or walking through a price estimate with customers. Lucas disussed financial investments with the example of a monthly epxense for their repair pricing software that itemizes parts and costs. While it requires an expensive monthly fee it also saves time and money and waste on parts. 
While Lucas manages the Nokomis Auto Body he has also started a few businesses of his own. He realized towing was a need in the area so he bought a tow truck. The hours were difficult at first until the business grew and he could hire employees to cover more hours. Then he purchased a small lot in Nokomis upon which he built a used car dealership. He buys auction vehicles and repairs them as needed to sell for a profitable margin. The dealership involved a lot of capital for someone so young and extra hours in the body shop repairing "as-is" auction vehicles. But Lucas concluded the tour by explaining to the team, "97% of the people who give up are employed by the 3% who didn't."  
---
Who's Who in Litchfield: "Sometimes LIfe Hands Us Chickens"
with Dr. Roger Wujek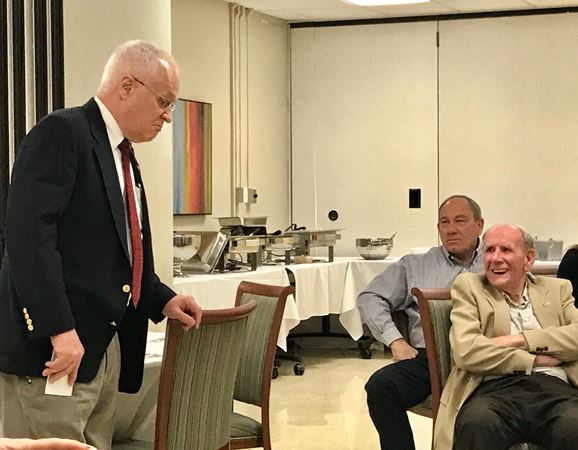 Mike Fleming, President of Litchfield National Bank, wanted bring business owners and community leaders together to spark comradery and hopeful enthusiasm regarding our community and economic outlook.  At the same time Dr. Ryan Follis, Montgomery CEO Facilitator, was looking for a way to bring the CEO experience of teamwork and community building to the public. Together they and others teamed up to create "Who's Who of Litchfield" which debuted last Friday for breakfast at St. Francis Hospital.  
Tom Franzen, of the Scheller Insurance Agency, gave an introduction for the morning's guest speaker, Dr. Roger Wujek.  Dr. Wujek graduated from Mendota Township High School, received his undergraduate from Illinois Wesleyan University and his M.D. from Southern Illinois University of Medicine.  He has served Litchfield through his family practice, and as staff member, Service Director and member of the Credentials Committee at St. Francis. Prior to his career in Litchfield, Dr. Wujek served in the Air Force Reserves as a flight surgeon where he received several Medals of Honor.  
Dr. Wujek started his presentation by sharing a cherished story about his father who instilled a strong work ethic and perseverance in his children. Roger shared three valuable lessons he learned working on his father's poultry farm spreading manure. First, it became obvious to him that farming would not be his chosen career.  Second, he realized he needed to rededicate himself to the study of science and math if he wanted other options in the future. Third, no matter what it looks like, chicken manure does not taste like oatmeal! (There is a great story behind the third lesson for those who were in attendance. Suffice to say, Dr. Wujek shared a story of an unexpected "shower" of manure!)
Dr. Wujek also spoke of three other significant people who shaped his life and eventually his career path, without whom he would not have entered the medical field. These individuals came into his life at the perfect time and provided encouragement, guidance and support as they were able to recognize abilities and strengths that a young Roger did not yet know how to utilize.  Dr. Wujek's stories encouraged guests to surround themselves with individuals that were positive and uplifting.
Dr. Wujek explained three important takeaways:  
First, put integrity above all else.  Integrity builds trust and without trust you can do nothing.  Integrity is perishable. You must constantly fill the "trust bucket."  He explained, "You can brush your teeth for fourteen hours straight, and then do nothing for a year.  Those fourteen hours, will not carry over into the rest of thee year. The same can be said for trust."
Second, live by the motto "service before self."  He said, "Colin Powell knew that he was a good leader because at the end of the day there would be a line of people waiting to talk to him.  On a good day, Colin would get home by 7pm. Colin Powell knew his leadership was needed and even thought the work day had ended, he put his duty before himself."
Third, strive for excellence in all you do.  Dr. Wujek gave two examples. Eighty percent of IBM's motivational speakers used a majority of their presentation slides talking about how IBM would beat Apple.  On the other hand, 100% of Apple's motivational speakers focused on ways to simplify life by changing the way people currently think about things. As we know, Apple's focus has led to expansion and success.  
Dr. Wujek ended the morning sharing his pride for the CEO program and those involved in making the program successful. Dr. Follis surmised the morning explaining, "Our CEO's get to meet a lot of business owners and hear rich stories like those we heard today.  These are the stories the community doesn't get to readily hear. This morning was a wonderful opportunity to inspire those in attendance."
---