15 days until the Montgomery CEO Marketplace!
CEO Business Visits
CEO Guest Speakers
---
---
Designing a Powerful Marketplace Booth
with Valerie Belusko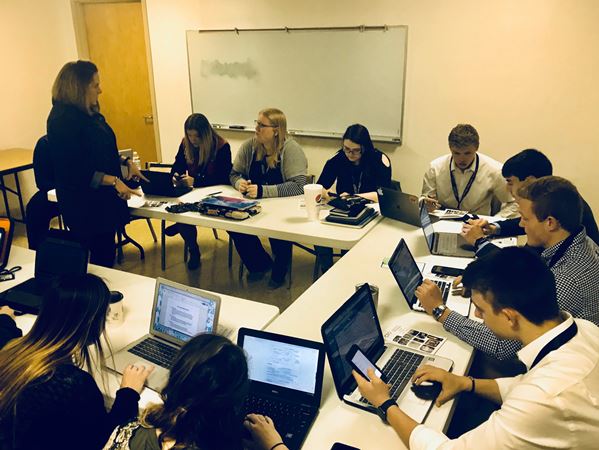 Valerie Belusko shared a PowerPoint with examples of trade show booths that were bare and poorly marketed while some were inviting with product and displays. The team discussed trade show booth ideas for the Marketplace that would be attractive, customer-friendly, and engineer sales.
Jordan Bruder noted, "I want to make my Trade Show booth feel homey, since my customers will be using my products at home. I plan on utilizing all of my space. I will have a vanity table set up with a few LED light mirrors along with some test product displayed for customers to touch and play with products and get a feel for them. I need to figure out a way to regulate how much time people spend at the tables with the product. Along with the product, I will have laptops set up with my website displayed for POS. For those customers who are interested and are waiting on a computer, I will have catalogs for them to look through and get an idea of what they want in order to speed up the ordering process. I want to stick with a purple theme since Younique's brand color is purple. This will make my business widely recognizable and familiar."
---
Touring Litchfield Animal Medical Center
with Eric and Colleen Helgen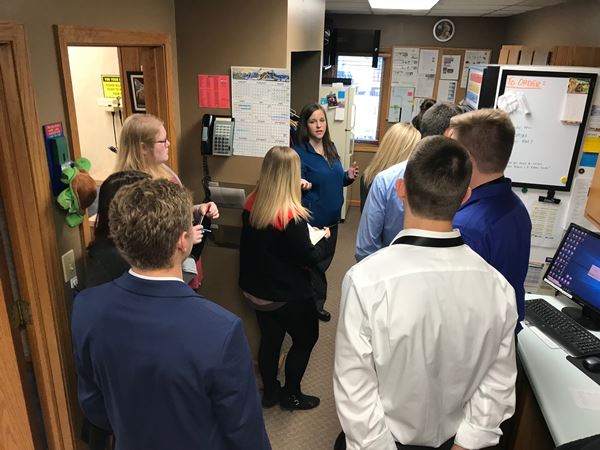 Dr. Colleen Helgen invited CEO to tour Litchfield Animal Medical Center. She had worked at a vet clinic in Springfield until she and her husband decided to purchase the local vet clinic, an established business with the previous owners for more than 40 years. Colleen talked about her passion to serve and care for the pets of her local community while Eric discussed the operational strategies and financial investment. Some of the challenges to the newly owned business included inventory management, investing in and training on equipment and software, and managing and hiring staff. 
Jacob Stockamp wrote in his work summary, "Getting the point-of-view of someone who recently bought into their business was eye opening. Dr. Helgen and her husband discussed the risks that come from buying a business such as employees retention and customer loyalty from the previous owners." Melody Sailsbury commented, "Mr. Helger stressed the point to us that we should surround ourselves with people who are trustworthy and competent."
---