3 weeks until the Montgomery CEO Marketplace!
CEO Business Visits
CEO Guest Speakers
---
Pitch Perfect: From Pitch to POS
Team Members Practice their Pitch for the Marketplace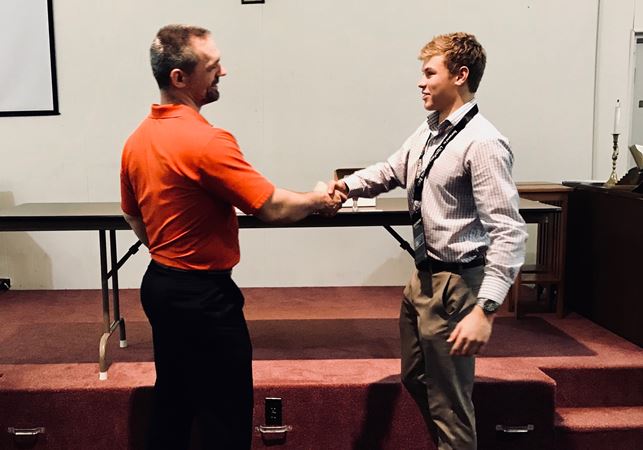 Last week team members spent some time introducing their business and practicing their sales pitch. Team members are realizing that networking marketing and sales are very different than the fast pace of a tradeshow. The Marketplace offers their businesses the opportunity to get their business names out to the public more quickly and with a larger target market. However, it also offers the team the challenge of making a quick pitch, efficient sales, and offering customer service while also presenting to prospective customers. 
---
Touring Hubbart Wood
with Chris Hubbart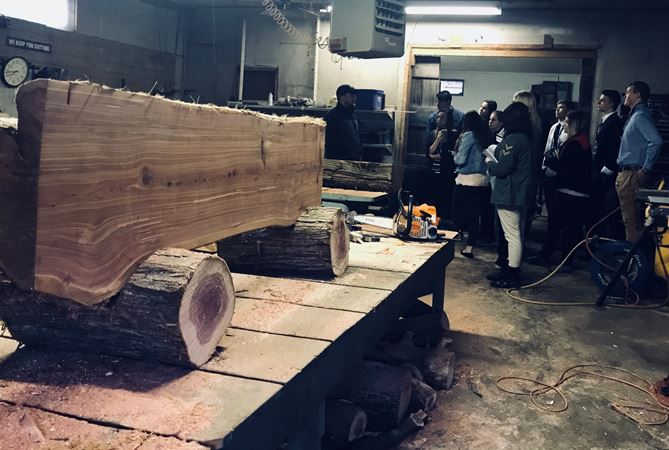 Chris Hubbart recently opened his Wood Carving shop in Hillsboro adjacent to Paris Frozen Foods. Some team members parked across the street and found it difficult to cross HW16 in the early morning. Chris capitalized on their first lesson of the morning, "that's exactly why I chose this spot for my shop: location, location, location."
Chris started out from a project he built out of convenience; a bench for children to sit on while waiting for the bus. From there friends and family asked if he could make log signs for their yards. Some requests were so elaborate, such as deer and birds carved in the sign with exquisite detail, that Chris began to make a name for himself.

Chris explained that he has diversified his business in order to maintain revenue during the ups and downs of carving requests. "We do tree removal which offers us revenue as well as raw materials for future carvings." Hubbart Wood also offers a variety of one-of-a-kind home decor furniture and art at their shop. The variety of revenue streams helps Chris extend his name into the community to build his customer base for his passion - wood carving.

---
Investing in Community
Rev. Tim Rhodus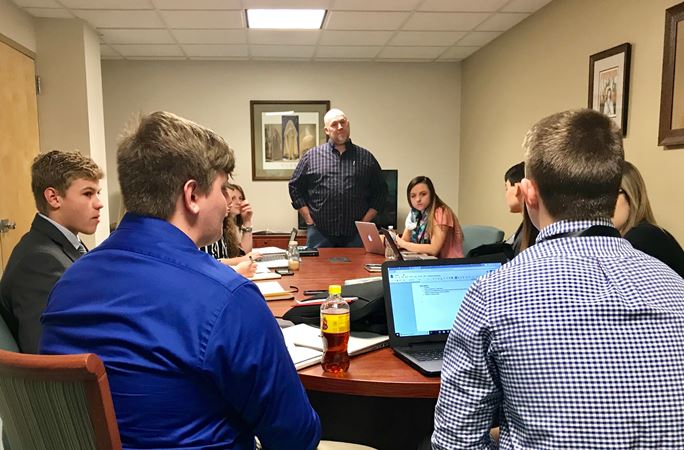 Tim Rhodus spoke with Montgomery CEO about the power of giving back to the community. Tim is the pastor of Cross Church in Carlinville and shared about his role as a cultural architect. "I help our community reform the culture of taking toward a culture of giving." Cross Church took on a unique endeavor when buying the old Walmart building and facing several zoning issues. Tim explained that the church, like any business, faces unexpected setbacks when growing. However, "the challenges we faced were also the opportunities for me to build credibility within my community."
Tim is now the chair of the Carlinville Chamber of Commerce. His insight into growing a not-for-profit as well as understanding the needs of the community offers a unique crossroads for the business community and people in need. Tim discussed his work in reforming shared events, overcoming communication barriers, and the opportunity for young professionals to be bridgebuilders in rural communities that rely on businesses for both financial investment and leadership.
"The best lesson I can leave you with today is the 15 minute principle." Tim shared, in closing, that if each team member spent 15 more minutes at the start of their day and 15 minutes at the end of their day refining and investing their business and community investments, "each of you would spend an accumulated and additional 2-3 work weeks on your business and serving your community each year than the person who arrives and leaves on time or shaves a few minutes off their work day."
---