The Art of Multitasking: Tours and Speakers and Starting their Businesses!
CEO Business Visits
CEO Guest Speakers
---
"Just Go!" To a Night in New York!
Saturday, March 3, 7pm
" A Night in New York " at the KC hall in Hillsboro offers a comedy premiere with appetizers, door prizes, and a chance to WIN an "urban transportation vehicle" (aka moped). Be sure to get your tickets early as room is limited: $20 a ticket or 4 for $60, or $120 for a table of 8. Can't make it to the event? That's okay, we have raffle tickets for $10 a piece to WIN the moped or a $1500 cash prize! (Do not have to be present to win the grand prize) GET YOUR TICKETS NOW!! We have almost 300 event tickets sold!

Click more info under the Promo on our website at www.montgomeryceo.com for tickets!
---
3D Printing at University of Illinois Extension Office
with Elisha Hughes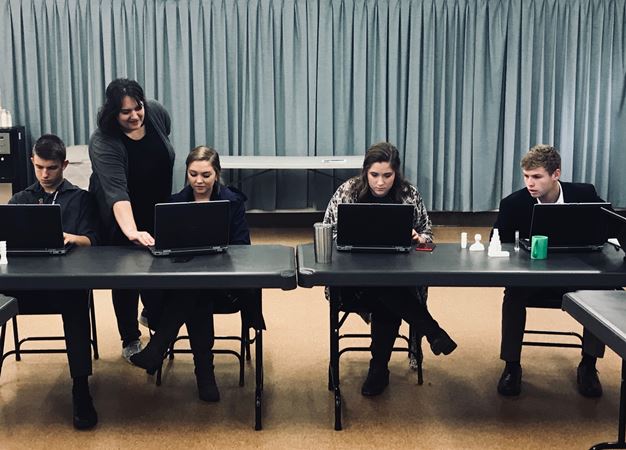 3D Printing is changing the future of business. 3D printers are used in dental offices to create 3D images of a patient's teeth, as food printers for noodles or chocolate desserts, to print shoes and clothing, and to even print patient-specific prosthetics. In fact, a 3D cement printer was used to "print" (build) a house out of cement in less than 24 hours! The CEO team learned how  3D printing reduces waste and improves productivity. A contractor can create a 3D image for a customer to visualize their addition without wasted materials. A company can create a 3D product to test it more quickly and without production and shipping costs and delays. CEO team members dreamed of the possibilities for future businesses as well as their own.
---
Buying and Selling Grain: Learning about Commodities
with Spencer Jansen at Farmer's Grain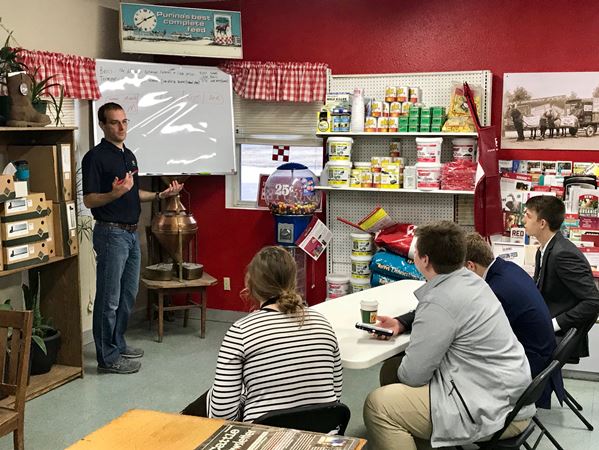 Spencer Jansen discussed the grain market with our young professionals. He explained why farmers sell grain through Farmer's Grain rather than to the final customer directly. Spencer discussed the difference between grain prices and the basis for grain and how he has to manage the purchase and sale of grain to make money for the elevator. He also walked the team through the predictions and estimations of the grain market. "Back to back trading breaks even but it doesn't make a profit."  So Spencer spends a lot of time evaluating grain prices, customer prices, market prices, as well as the quality of grain and the capital expenses for the elevator to build bins and store the grain long-term. Team members discussed their businesses and the need to be aware of the demand structures and market prices for their products and services.
---
Building a Small Business and Building up Rural Communities
with Brian Sullivan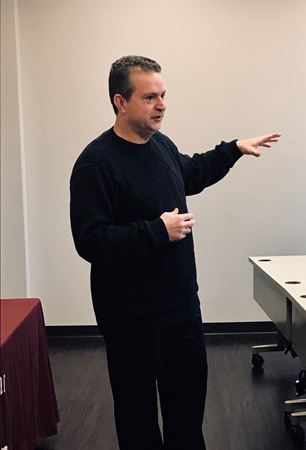 Brian discussed his success as an independent pharmacy amidst changing regulations and growing red tape in medicine. He also explained how changes have made it more difficult for the small town business to compete with chain stores. One example is that wholesalers who work with box stores and larger contracts are producing more products overseas to offer cost incentives in volume. Smaller, independent pharmacies do not have the resources or demand to compete on that level, but, Brian counters, "we offer better service. I know my customers and I know where I get their medicines."
Brian also explained his role as mayor of HIllsboro. He ran for mayor because he wanted to help the community become more enticing to business and families. Tax Incentive Financing (TIF), for example, has helped incentivize businesses to invest downtown. High speed fiber is also coming soon to improve internet dependency, speed, and reliability. CEO team members gained a deeper understanding and appreciation for businesses that are the engine of small town America. Small businesses are also the future of rural communities to thrive and offer personable and competitive products and services. 
---
Touring Fusion and Learning the Business of Health
with Director, Jessica Chappelear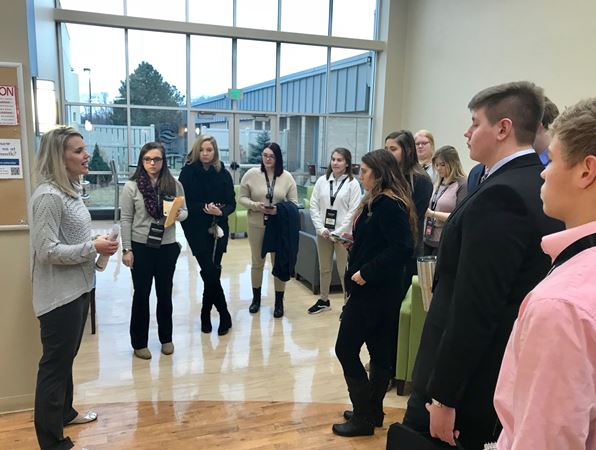 Jessica Chappelear, Director of the Fusion Fitness and Aquatics at Hillsboro Area Hospital, gave a tour of Fusion with the CEO team. Jessica explained the business components for the Fusion through memberships, special event planning, massage therapy, exercise classes, and as a resource for the hospital's therapy departments. Team members asked questions about the pool expenses and membership numbers as well as staffing requirements and operational structures. Jessica discussed customer service and the need for her employees to be attentive to the members and guests as well as her role as Director to create strategies for growing memberships while also minimizing costs. 
Special thanks to HAH for the Window Pictures of our team members!
---