Meeting the Next Class in the New Year
CEO Business Visits
---
MoCo Entertainment Presents
A Night in New York!
CEO Professionals are selling sponsorship opportunities and tickets forA Night in New York  on March 3rd. The marketing team developed a flyer for community businesses and schools. They are also developing a social media blitz with creative memes and "commercials", while at the same time contacting traditional media outlets such as local radio and newspapers. The sponsorship team has researched and reserved an "urban transport vehicle" (moped) as a raffle item to promote the event and maximize sponsorship promotions. Both the marketing team and sponsorship team are working on an action plan that increases revenue for the class business as well as maximizing advertisement for our sponsors leading up to  A Night in New York.
Similarly, the Talent team, Operations, and Finance team developed action plans to prepare and plan a high quality event. Operations is working on New York style concessions, centerpieces, and large-scale room decor to bring New York City to Montgomery County. The talent team is working with community leaders and friends of CEO to reboot popular SNL skits with audience participation to bring "big city laughs to small town USA." The finance team records ticket sales, sponsorship revenues, and weekly expenses as well as researching alternative payment options to cash and check for our customers. 
---
Presenting CEO to Next Year's CEO
with LHS and LWHS Juniors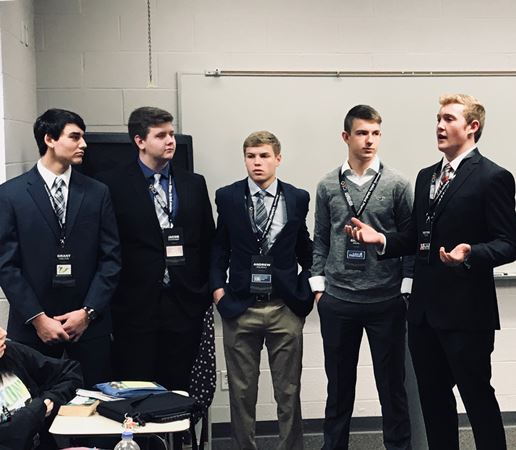 Our CEO team visited Litchfield High School and Lincolnwood High School to present CEO to juniors. Approximately 100 juniors at Litchfield High School and 30 juniors at Lincolnwood High School learned about the CEO experience including professional dress, etiquette, tours and speakers, as well as the class business and creating individual businesses. Those interested signed up for more information and received an application for next year's program. Interested juniors at LHS and all the juniors at LWHS participated with our CEO professionals in problem solving and teamwork exercises. After each presentation 23 juniors from LHS and 14 juniors from LWHS signed up with an interest in pursuing CEO. 
---