Planning for CEO's Future with the Brightest Minds
CEO Business Visits
---
Touring Sierra
with Mandy Jewel and Abby Snyder
Sierra's Mandy Jewel, HR Business Partner, and Abby Snyder gave CEO a tour of their processing and distribution warehouse. Sierra has more than 200 employees and distributes thousands of aftermarket SKU's for marine engines and drive parts. Mandy explained their reorganization efforts in recent months for their work areas to maximize efficiency; "We are planning to expand and build a more advanced product room and training center." Team members discovered the importance for continuous evaluation, problem solving skills, and implementation strategies.
Jacob Stockamp reflected on the tour, "Sierra is a business that has so many departments, including: product managers, accountants, customer service, marketing, IT, inventory management, etc. Starting a coffee business I plan to give service to other businesses by maintaining their coffee. I would not require as many departments as they have as my business is on a much smaller scale than Sierra's, but that doesn't make it more efficient for me because I have less. I lI will save money starting out doing everything myself, but I learned that they do their work more efficientlybecausethey have more resources."
---
Combined CEO Meeting
with the Team and Board Members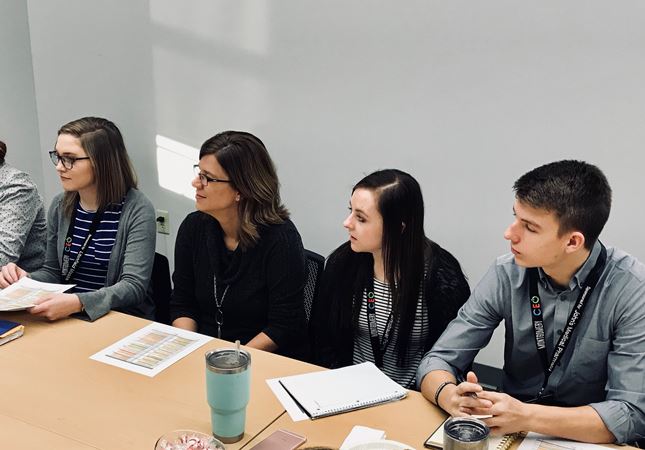 The Board and team met together and discussed the CEO experience at this point in the year. The board shared insight on the purpose and vision for the program and their encouragement for this year's team to succeed. The board also listened as team members shared about their experience including what they have found useful and what they have found difficult to understand. Team members would later share their appreciation for having their viewpoints heard without feeling intimidated.
A special thank you to Rachelle McDowell, Principal for NHS and CEO board member, for hosting the combined meeting at the Nokomis High School. The meeting consisted of discussion related to recruitment and the inherent challenges of a program that is highly valued but not in the mainstream of daily school activities. Suggestions for getting the word out included present team members speaking to the junior classes through a variety of mediums; from presenting to juniors in their present classes, to setting up a table with information about CEO during lunch, to making short commercials to share through social media outlets. The team members shared how last year's team members' stories as well as participating in the shadow tours helped them decide to apply. CEO isn't possible without the collaborative efforts of our community businesses and school districts...and a young, entrepreneurial spirit!
---