Smelling Like Roses: Visiting Petal Pushers and Learning CEO's Nationwide Vision
CEO Business Visits
CEO Guest Speakers
---
Momentum Building and Vision
with John Perles, Momentum Builders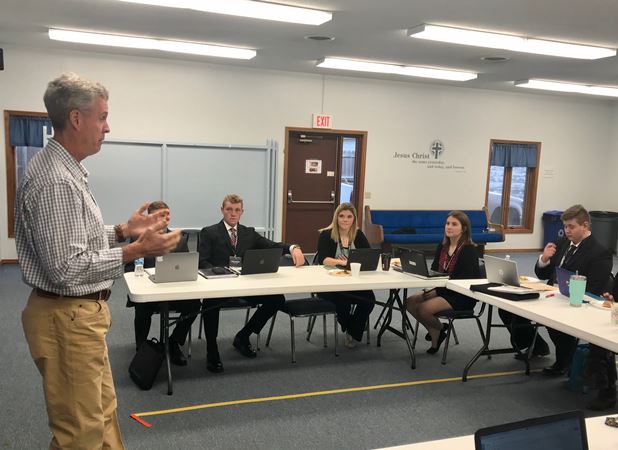 John Perles created Momentum Builders to help businesses and professionals create a culture for success. John has served on the board with Midland and intimately with Effingham CEO from its inception and visits surrounding CEO communities to inspire other CEO professionals. John focused our team on a concise vision and purpose statement for the class business.  "Companies that lose momentum are confused about their mission and vision. Every business needs to identify two reference points: Where are we and where do we want to go? Like a GPS, if you know the answers to those two questions you can navigate the steps to get there."
Jordan Bruder reflects, "John Perles helped our team work together to come to a conclusion about what we want out of the class business. We decided on a lofty goal of $20,000 in profit while at the same time aligning our financial goals with our core values and vision statement. In my personal business, I need to work on my purpose and vision statement and research attainable goals for my Younique business."
---
Owning Your Own Business is Smelling Like Roses
with Jessica Vickery, Petal Pushers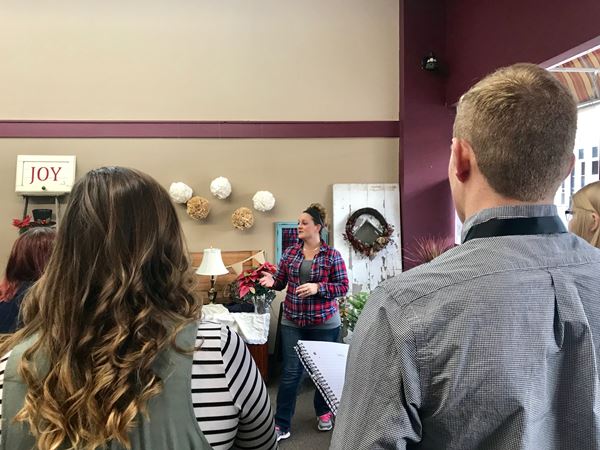 Jessica Vickery shared a real-life story of transitioning from corporate employee to buying her own business and becoming a self-employed business owner. Jessica now owns and operates Petal Pushers in Litchfield. She explained the steps she took to afford the startup capital, to buy and manage the building, to hire the right staff, and how to manage inventory with a temporary shelf life. Jessica also explained her vision for growing the business and adding revenue streams through special events and selling home decor in the store.
Brynee Tally shared, "I found Jessica's story to be inspirational because she chose a path toward success that was not necessarily her first passion in life. She took over Pedal Pushers not knowing much about the flower business but capitalized on the opportunity as a need in her community. Starting my drone business is also a risk but I have done a lot of research and comparisons to learn about drones and what I will need to get started. I have seen the success in drone photography in other communities and believe I, too, can learn what it takes to make it a successful business."
---
The Vision of CEO Nationwide
with Kent Probst, Midland Institute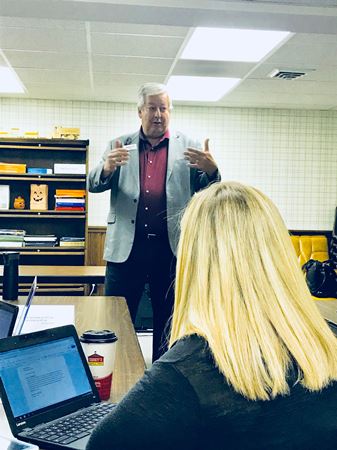 Kent Probst from Midland visited CEO to share about the CEO culture and experience. Presently there are 41 CEO programs throughout the United States. Kent said Midland is in conversation with communities that will likely lead to 50 programs by the fall of 2018 and 60 by the fall of 2019. Kent discussed the Midland model for starting CEO as an example for the young entrepreneurs to follow. "Like Craig Lindvahl says inThe Things You Wish You Knew Yesterday,'life ain't no laserbeam.'" Kent shared examples of Midland's process for refining and creating the CEO brand. He also shared about past CEO team members and students who learned from their mistakes, refined their business plans and ideas, and some who are still running successful businesses.
Morgan Arkebauer notes, "Kent talked with us about our class business and personal businesses. Kent shared how CEO teaches professionalism such as eye contact, dressing professionally, and how to talk to your customers. With my business I will need to be vocal and draw people into my business. Owning a tshirt business is competitive as there are several already in Montgomery county. I will need to learn how to stand out and attract people to my business to set myself apart from my competition."
---