Marketing Yourself and Insuring Your business
---
A Night in New York: It's Saturday Night!
This Year's CEO Class Business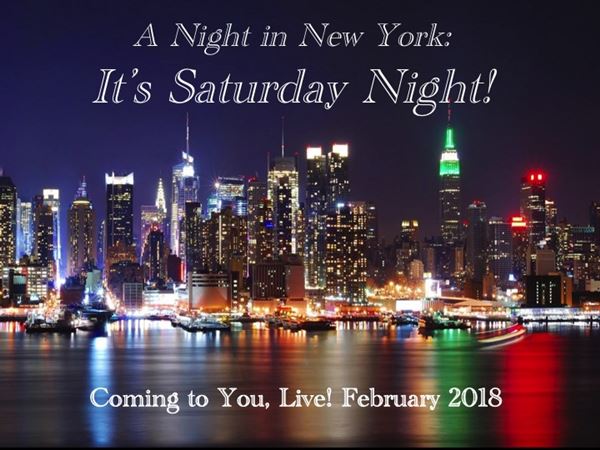 The team is capitalizing on the Shark Tank suggestions by planning an evening of family entertainment with local talent,  A Night in New York: It's Saturday Night.  The event will highlight local talent and an eventful evening at an affordable cost. The team is also entering their most challenging season of multitasking; focusing on tours and speakers to prepare for their personal businesses while starting and implementing their class business at the same time. The CEO experience offers one of the most challenging and rewarding opportunities to create teamwork, focus and determination, as well as profit and tangible results. 
---
Mitigating Risk with the Right Insurance
with Tom Franzen, Sheller Insurance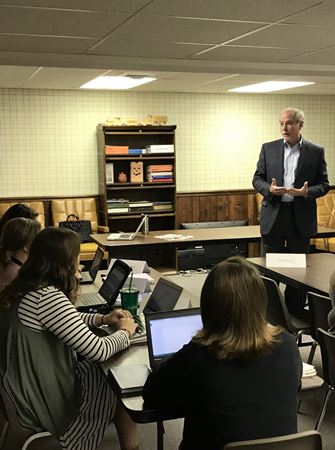 Tom explained that insurance indemnifies the payer according to a policy agreement. Tom explained the difference between a mutual insurance company and a stock company as well as a brief history of insurance that included the great fire of 1756 in London and the Great Fire of 1871 in Chicago. Tom encouraged the young entrepreneurs to evaluate their speculative risks and pure risks inherent with owning and operating their own businesses. "Create the right culture. Culture eats strategy for lunch. If you have the best strategy but a poor culture you're in trouble. And if your employees [or customers] are mad, bad, or sad...you're had."  
Grant Hamby recalls, "Tom talked to us about mitigating risk with the right insurance for our personal businesses. Being that my product is a safety product the potential for lawsuits is much higher than other businesses or products. To avoid unnecessary risks i will plan to have an attorney look over my insurance policy to cover all my bases. I will also need to avoid legal issues by avoiding names or logos that belong to another company."
---
Marketing Your Services and Yourself!
with Lisa Casterline from Kelly Services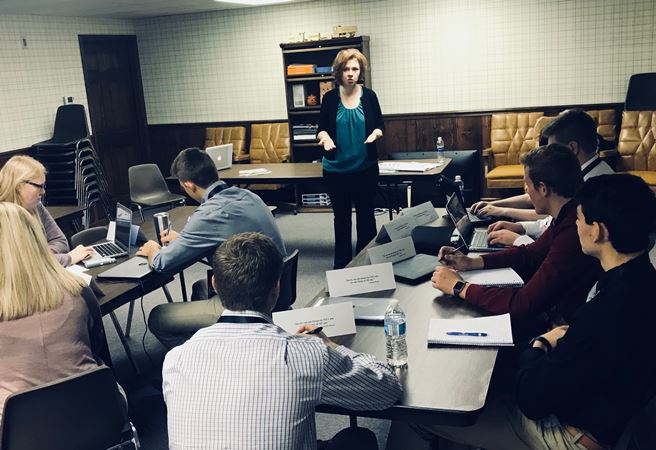 Lisa introduced CEO to the purpose for service companies like Kelly Services. "We are a pipeline for employees in the workplace." She discussed the history of Kelly Services from staffing secretaries and office staff in the 1940's to a variety of entry and middle management positions today. "Our customers hire Kelly Services to hire talent for seasonal employment, immediate replacement needs, or for talent recruitment." Lisa also explained the power of self-marketing and how the young entrepreneurs present themselves to make a strong first impression with potential investors and customers.
Melody Sailsbury recalls, "Lisa shared that repeat customers are gold, 'create a pipeline for them to return time and again.' I have had 3 reoccurring commissioners online, and it is pleasant to get that recurring business but I need to grow that relationship and work on refining my products. Lisa also discussed the importance of branding. I already have a symbol in mind for my company but my online footprint feels a bit highschoolish. I'm working on cleaning up my brand image to make it more professional and to build off of it for my products and customer interactions."
---