Thankful for the CEO experience
---
CEO Team Building Exercises on Risk and Failures
with the Game of Mau and a Minefield with a Twist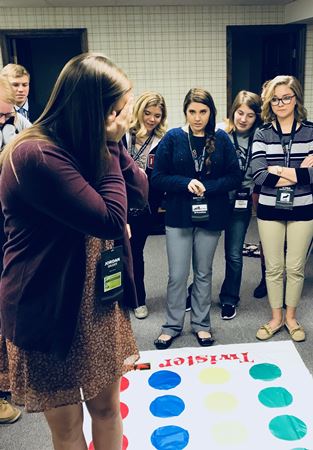 In recent weeks the team participated in activities that teach the art of learning from failure as the key to success. Dr. Follis challenges the team to risk failure in order to learn from their mistakes rather than living through the  fear  of failure and not taking any risks at all.
The card game of Mau begins with a single instruction, "This is the game of Mau. After the first card is dealt there is no speaking." Team members do not receive any additional instructions. Instead, they learn by taking risks and observing how penalties are distributed. For example, one team member played a card to start the game and was penalized for playing out of turn. Another team member figured out it was their turn but played the wrong card. Each time a team member made a mistake they were penalized with an additional card. However, by observing the purpose of the penalties team members learned the rules to the game.  
Last week teams competed in a "Minefield" on the Twister board. Teams had to step onto the board and find the correct path to the other side of the board without stepping on the wrong circle. Every time a team member made a wrong step they lost their turn. Slowly but surely each team learned by their mistakes and worked together to avoid the "mines." Eventually teams figured out the path to the other side of the Minefield...much like they will learn to do in their class business and their personal businesses. 
These activities challenge CEO team members to engage their surroundings regardless of knowing or understanding all the "rules" at their disposal. They are young and inexperienced, but they can also be very creative, adaptable, and determined! Life and business do not always have clear instructions at every turn. However, the best rewards in life often come from taking risks and learning from one's mistakes.
---
Touring Worksaver
with Tim Burenga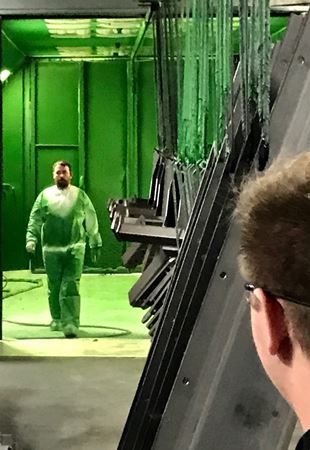 The CEO team toured Worksaver in Litchfield with Tim Burenga. Tim explained how his dad started the company in 1980 and built it up on a simple formula: create a quality product that customers want time and again, and keep up with technology before it outdates your business. "Make sure you keep up with the market and technology. You have to be willing to change to be successful."
One example is Worksaver's investment in robotic welders. A team member asked if the robotic welders replaced some of his workforce. "Actually," Tim explained, "we are just coming out of a hiring spree." Tim shared that as their company adapts to technology it is able to grow and as it grows so does his workforce. "[Robotics] simply changes how [employees] interact and maintain the machines as well as continue the finer work that the robotic welders are unable to do."
Tim also explained the process for Worksaver's financial planning as the machines are very expensive. "We constantly evaluate our processes to make improvements. We plan and purchase new machinery solely on the basis of its ROI. If it's going to make us money over the life of the machine then we buy it. If not, we wait."  One example is what the team called, "the green room." Worksaver creates a number of attachments for John Deere products and, in turn, invested in a specific room for painting the attachments John Deere green. Also, in recent years Worksaver made a significant investment in a solar field which reduces their power bill and offers more consistent power for powering their high-wattage machinery. The CEO team is learning time and again that making money requires financial planning and long-term investment strategies.
---