Operational Strategies with David Hayes and Merchandising with Michelle Peitzmann
CEO Business Visits
---
Touring Hayes Abrasives
with David Hayes

CEO toured Hayes Abrasives with David Hayes. Team members learned that their business can be in a small town with BIG aspirations. Hayes Abrasives is an international business with a niche product. For example, their cutting wheels are made from raw materials such as rubber purchased from overseas. The rubber is then used as a bonding agent for finer cutting materials. The final product is shipped back overseas to companies who make parts for products that go into everything from a steering wheel horn to a double-clutch helicopter transmission. Team members discussed the importance of planning ahead for a production process that minimizes costs and utilizes materials at the cheapest price without sacrificing quality. 
---
Touring Whiskey River Dry Goods
with Michelle Pietzmann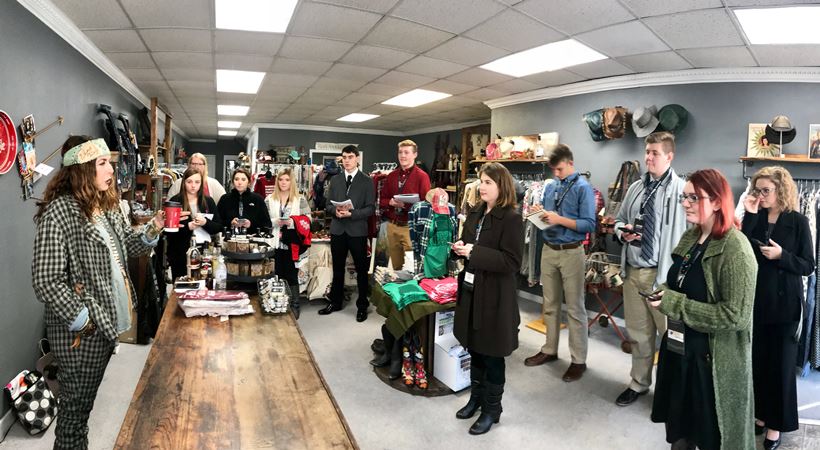 Michelle Pietzmann excites the CEO team with her retail stories and merchandising. Michelle shared about the challenges and opportunities of running a small business in rural communities. One challenge is that small business owners wear many hats to minimize costs; such as running the register, tracking inventory, and marketing their business through creative and inexpensive marketing outlets. Michelle also shared that she loves what she does; that "working for yourself doesn't feel like work if you are doing what you love." She shared her passion for merchandising and selling her unique products in her store to loyal customers and through her shows to customers all around the United States. 
---
Marketing our Badge Business Sponsors
Each year sponsors partner with team members to market their business by having their business name alongside the team member's name on their name badge. As team members participate in CEO and meet hundreds of professionals they are able to recognize their individual sponsor. The CEO team would like to especially thank our $250 and $500 sponsors.  
$500 Sponsors include: 
Morgan Arkebauer is sponsored by Arkebauer Farms 
Arkebauer Farms is a family farm that farms approximately 2000 acres in Montgomery and Christian county.
Brea Cox is sponsored by Hamlin and Jones Excavation
Founder Lester Hamlin and partner, Ralph Jones, specialize in conservation work by installing waterways, building terraces and providing basin construction. Drainage problems are no problem as they are experts in surface and subsurface drainage. Keeping ahead of the changes in technology when it comes to surveying aids in cost-effective solutions to your excavation needs. You can contact Lester Hamlin at (217) 556-0568.
Brynee Tally is sponsored by AT Trucking 
AT Trucking  is a trucking company owned by Adam Tally. Tally's business consists of 5 semi- trucks based out of Mulberry Grove. Within the walls of his company his driver's  hall steel, grain, and rock to 48 states discluding, Hawaii and Alaska. If any questions or opportunities for hauling, feel free to contact Adam at 618-267-4322.
Peyton Tester is sponsored by Morton Buildings
Morton Buildings is a construction company located in Litchfield that caters to Ag related businesses throughout the county and can be reached at 217-324-2002. 
Grant Shelton is sponsored by Niemann Grain Farms Inc.
Niemann Grain Farms is owned and operated by Kevin and Tracy Niemann and has been a part in helping young entrepreneurs grow as investors in CEO. 
Kyra Bishop-Jacobs is sponsored by the Men and Women of the Litchfield Moose
Kyra has been volunteering at the moose since she was a freshman. As a result the Litchfield Moose wanted to know more about the program and made the investment to sponsor Kyra and support young entrepreneurs. 
$250 Sponsors include: 
Andrew DeLaCruz is sponsored by Litchfield National Bank
Litchfield National Bank was started in in the early 1900's, and the bank has been growing and expanding ever since. Litchfield National Bank has always been known for their exceptional customer service. Litchfield National Bank shows their investments in the community by sponsoring events and organizations such as CEO. I would like to thank Mike Fleming, and all of the staff at Litchfield National Bank for sponsoring our lanyard business.
---