Shark Tank Results and Financial Planning with SNB
CEO Guest Speakers
---
Touring Security National Bank
with Rob Williams and Jim Miller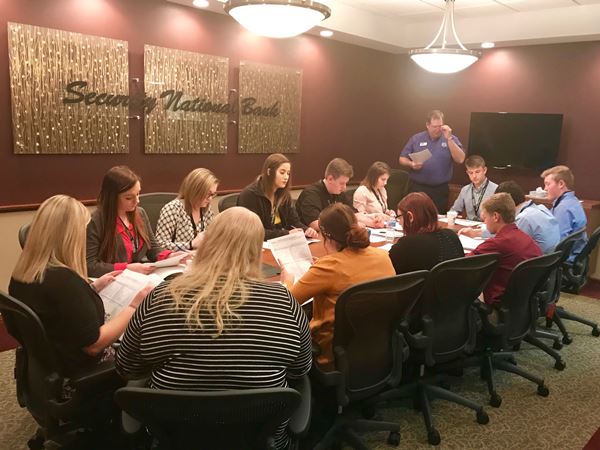 CEO visited Security National Bank to deepen their understanding of financing their future businesses. Rob Williams explained some of the intricacies of banking and acknowledged that the banking industry is second only to nuclear power plants in regulations. Rob also explained the 5 C's of banking in detail. The team was able to evaluate mock applications of individuals applying for commercial loans. They reviewed, for example, "John Smith's" credit record and capacity for repaying a loan to determine if his score was high enough to be approved. Jim Miller discussed the terms for which farmers apply for and receive a revolving line of credit which can help cover capital expenses to keep a farm (or business) working at maximum capacity or help cover the monthly cash flow in slow months. 
---
Shark Tank, 2017
Thank you to our volunteer "Sharks"!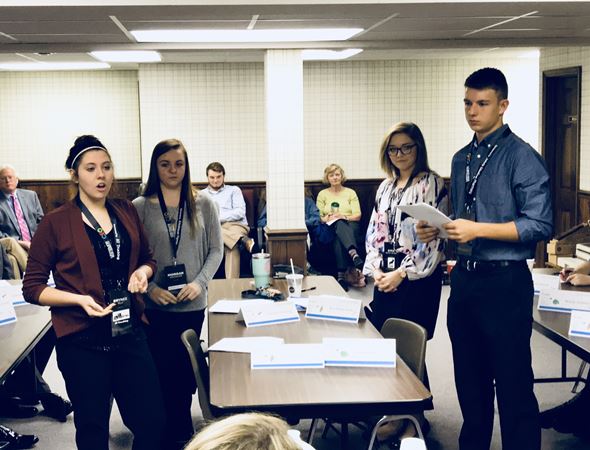 This year's shark tank added intrigue and insight into this year's class business planning. Instead of the team preparing and presenting one idea, the team was broken up into three groups to prepare three separate business concepts. The first team presented a vending machine business in which the team would purchase and stock a few vending machines for a local business. Their labor force of thirteen team members on a rotation schedule to stock and manage the vending machines was challenged by the continuity of running the business long term and threats to their operational strategies. The second business was a marketing team for Imagine Hillsboro's Winter Festival. The marketing team planned to create a map of downtown Hillsboro to sell advertisements to local businesses. The map would display their location and information while discounts or coupons would be available on the back of the map. While the concept created intrigue and enthusiasm the timeline to design and print the map was limited and the revenue depended heavily on local businesses buying advertisement on short notice. The final business plan was A Night in New York; a red carpet event with a catered meal and entertainment. Entertainment would include a headliner comedian as well as local talent derived from local auditions. The sharks agreed that the one night event would have the best chance for success and profitability. The sharks also shared their insight on costs, logistics, and pricing. In the end the team will begin to work together on a class business event for early February. Details will be coming soon. In the meantime, a special thanks to Valerie Belusko, Marty Dawson, Jared German, Jessica Chappelear, Amy Patton, and Bill Bailey for volunteering to be our sharks in this year's shark tank!
---