Montgomery CEO Calendar
Add this calendar to your iPhone
Print Calendar
---
---
Latest News
---
News Archive
---
Get Involved in CEO
The manner in which the CEO program is funded is critical to its success and sustainability. All funds raised are used exclusively for the Montgomery CEO program. To participate, a 3-year $1000 per year commitment is required. Business Partner Investors commitments of time and energy are also critical to the program's success. Contributions may be tax deductible, as our organization is a 501(c)(3) not for profit organization.
When we are not touring local businesses, we need a place to host the class. During that time, the 13 CEO students and their Facilitator would meet at your site where they would also have guest speakers and guests from the community attend. Hosting requires a facility with internet access and adequately accommodates up to 18 people.
We are looking for people to share real-life stories about the concepts of running a business, from strategic thinking, product development to marketing, and cash flow management. Also, sharing your personal successes and failures are what recent classes have enjoyed the most.

If you are interested in participating in any of the above programs, use our contact form to send us a message
---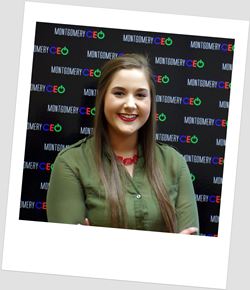 Jordan Bruder
About Me
Jordan Bruder, an honor student, athlete, and role model at Nokomis High School, is building a network of mentors, fellow entrepreneurs, and clients in order to establish professional credibility. She is exploring potential job opportunities within Montgomery County and gaining business experience through class speakers and tours which are presented to her through CEO. With the knowledge she will acquire through this program, she plans to create and market a service business selling her clients a new-found self-confidence through cosmetology. Jordan is inspired by the art of cosmetology because of the endless ways in which she can help her clients express themselves. With the profits from her personal business she creates in CEO, Jordan will pursue her dream of attending a four-year university with a major in business. After completing her schooling, Jordan has plans to open her own cosmetology salon.
Learn More about Jordan
---
Montgomery CEO Business
Investors