Montgomery CEO Calendar
Add this calendar to your iPhone
Print Calendar
---
---
Latest News
---
News Archive
---
Get Involved in CEO
The manner in which the CEO program is funded is critical to its success and sustainability. All funds raised are used exclusively for the Montgomery CEO program. To participate, a 3-year $1000 per year commitment is required. Business Partner Investors commitments of time and energy are also critical to the program's success. Contributions may be tax deductible, as our organization is a 501(c)(3) not for profit organization.
When we are not touring local businesses, we need a place to host the class. During that time, the 13 CEO students and their Facilitator would meet at your site where they would also have guest speakers and guests from the community attend. Hosting requires a facility with internet access and adequately accommodates up to 18 people.
We are looking for people to share real-life stories about the concepts of running a business, from strategic thinking, product development to marketing, and cash flow management. Also, sharing your personal successes and failures are what recent classes have enjoyed the most.

If you are interested in participating in any of the above programs, use our contact form to send us a message
---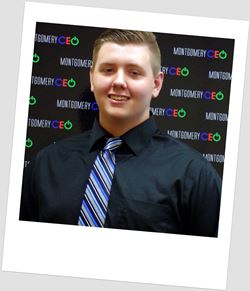 Jacob Stockamp
About Me
Jacob Stockamp is a senior at Litchfield High School, where he plays football and baseball. He has developed many leadership skills and experienced much perseverance through sports which have prepared him for the challenge of CEO. Stockamp was instantly attracted to the idea of the CEO program and excited for the challenging "out of your comfort zone" feel that CEO students often experience. In hopes of one day running his own sales business, Stockamp recognized the importance of this entrepreneurship program and believed it was an opportunity that he could not ignore. Stockamp´s interest in entrepreneurship started when learning about his grandparents meat market business. There were times in which they would profit thousands of dollars and times of struggle as the business started to fail. Stockamp is determined to make his dreams a reality on both the good days and the bad days.

Learn More about Jacob
---
Montgomery CEO Business
Investors