Business Planning, the 3 C's, and Designing a Profit
CEO Business Visits
---
Strategizing the Right Time to Start Your Business
With Heather Hampton+Knodle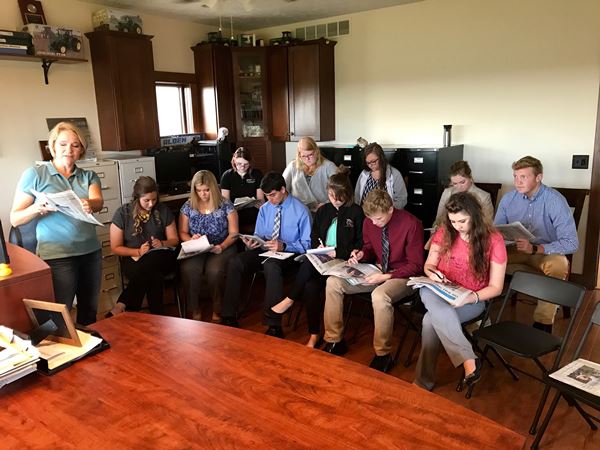 "Heather Hampton+Knodle is a widely respected business woman who went from being terrified in front of others to being a part of 4H shows, a world traveler, and a successful entrepreneur. Heather introduced us to the benefits of the Wall Street Journal. She shared her experiences in starting numerous business ventures. She also shared about how to be a successful bsiness person through perseverance, creativity, self-motivation, and other life lessons she has learned along the way. I learned that something as simple as packaging can be the selling point for a successful product. I am also learning to ask questions that I don't know to ask!" ~Jordan Bruder

We would like to thank Knodle, Ltd. for being a Montgomery CEO investor
---
CNB Bank in Hillsboro
with Jordan Ruppert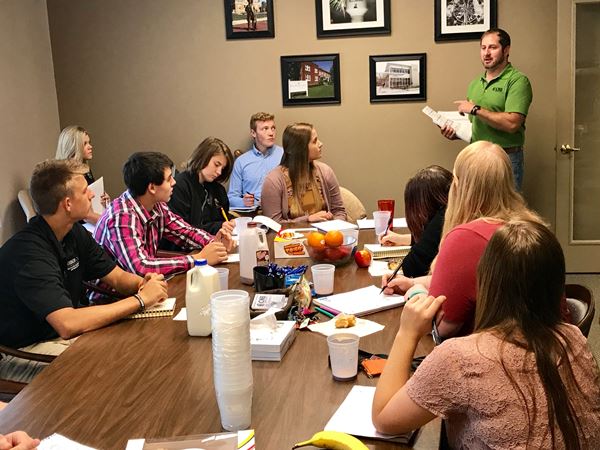 Jordan Ruppert introduced the team to the 3 C's of banking and why it matters for businesses as well as personal financing. Jordan also introduced the financial purposes for a thorough business plan. Samantha Knodle recapped the tour as follows: 
"Jordan Ruppert offered a lot of important and helpful information about banking practices for businesses. One example is that he taught us what an amortization schedule is and how it impacts the bottom line over the life of a loan. I realized that I need to work closely with the bank that I choose to set up a plan for my business and a loan that I can afford with payments that allign with my business plan. I also appreciate Jordan sharing about the value of trust as a key component to a great relationship with one's clients and customers. I will need to have the same trust and respect with my future clients and customers." 
---
The Fair Market Value Challenge and Future Lanyards
This year's CEO team started the year with an unexpected challenge; the Fair Market Value Challenge. Each team member received $1 at the Team Building Event on August 14th with the goal of creating a return of $100 by September 1st. The few rules included the following: They could not add their own money but they could add their labor and commonly held resources. They also had to keep track of a PnL that accurately recorded their expenses and income by tracking each transaction. Each transaction had to align with the Fair Market Value for that item or transaction. For example, a team member could buy a pack of gum for $1, separate the gum, and sell each piece individually to people who would want gum at a time and place with few other options. Team members were very creative. One bought a brownie mix, made brownies, and sold them individually. Another took rocks from a creekbed with paint supplies and sold the opporunity to paint rocks outside of Krogers while parents or family members were shopping. Others marketed taking pictures at public events from which they would crop, edit, and print the pictures to be personally delivered for a reasonable price. All in all the team members profited over $1800 from the original $13. While the Lanyard business is forthcoming, the FMV Challenge offered a firsthand, out-of-the-gate experience on skills related to marketing, salesmanship, accounting, and pricing products and services according to supply and demand. 
---