Week 2: Professional Dress, Professional Ettiquette, and SBA Tips for Starting a Business
CEO Guest Speakers
---
Visiting Montgomery County Realty
with Brandi Lentz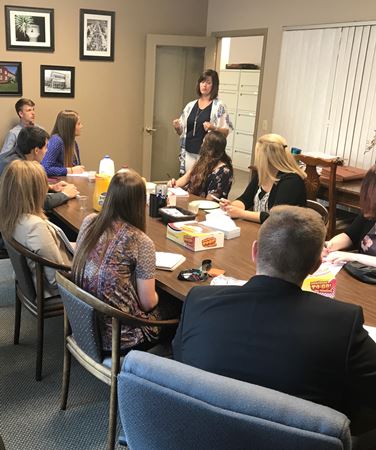 Alexis Stewart revisited the tour with Montgomery County Realty. "Brandi covered a host of topics such as business vs. personal interactions, professional dress, and core values. My favorite advice was making business not become too personal; that there is a need to seperate the two worlds. You've got your personal life, then your business life. It can get stressful if you don't manage them separately. Brandi Lentz also spoke about professional dress. You have to dress as if you are always meeting clients and consider what is appropriate for each situation. Brandi also shared her company's core values which included integrity, excellence, and always put the other person first. I plan on implementing these values into my own somehow. I also plan on keeping customers in mind when I dress to go out. With my business I plan to keep tabs on my competitors and work to up my game. I also plan to try my very hardest to keep my business and personal lives separated as much as possible.
---
Resources with the Small Business Administration
with Valerie Ross
Valerie Ross with Small Business Administration visited CEO to discuss the steps of starting a business. Team members began to consider their personal business concepts in detail; what type of businesses would be profitable, which ones would require more logistics or inventory than others, and how to formalize a business as a DBA, incorporation, and how to get an EIN. The more interactive discussions included the details inherent in devising a business plan and how to borrow money for start up capital. 
---
AIDET Training and Customer Service
with Amanda Payne and Kayleigh Bondurant
Amanda Payne and Kayleigh Bondurant with the Hillsboro Area Hospital presented the hospital's patient care training, AIDET, to CEO and its applications for customer service. Team members learned the challenges of making assumptions when communicating with their clients or customers. Breakout groups, for example, participated in an exercise where one person saw a completed lego structure and then attempted to convey instructions to others to build an identical structure. Team members realized the need for clear and concise information and instructions when discussing business with a customer or business partner. 
---