Making First Impressions: What Works and What Needs Recycled!
CEO Business Visits
---
Writing Professional Profiles
with Valerie Belusko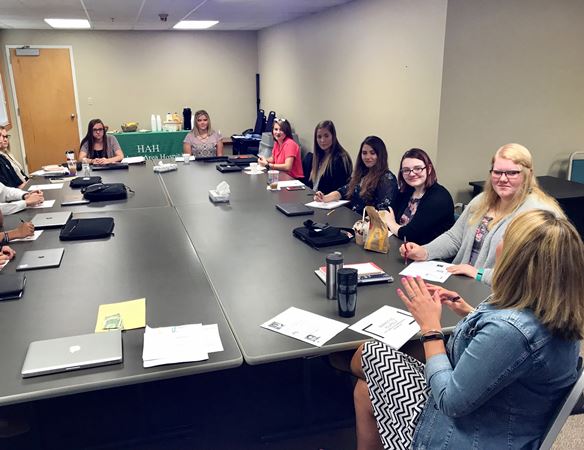 Valerie Belusko started the CEO year by explaining the importance of professional profiles. Team members were given sample characters such as Chicken Little or Cinderella and asked to write a sample profile for that person. The exercise added humor to the lesson and ability to speak positively and clearly about one's professional image. Profiles help make a strong first impression with customers and business partners who utilize technology and social media to read up on companies and business professionals ahead of meeting them. 
Brea Cox notes, "The first day of CEO class was another level of nerves, but I really enjoyed Valerie Belusko being there to introduce us to writing our  professional profiles. Her goal was to teach us on how to market ourselves by writing out our positive qualities. One important rule for writing profiles is to know the audience. I look forward to writing a supportive profile that reveals my strengths and abilities to future business partners."
---
Touring Montgomery County Recycling
with Ben Bishop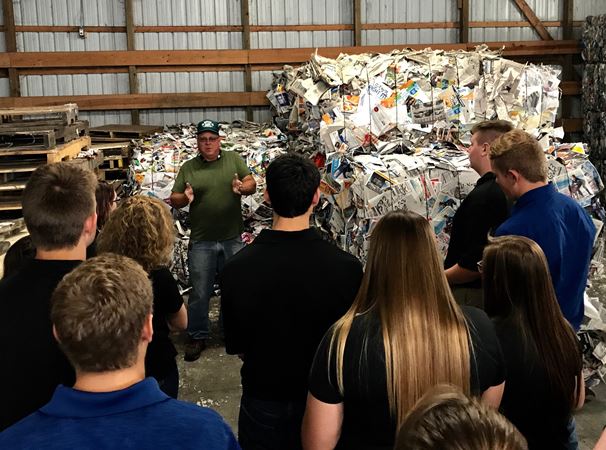 Ben Bishop manages Montgomery County Recycling. The tour is a hit every year as Ben introduces the team to the very basic about running a business. Key principles include repurposing unwanted materials for profit, evaluating logistics and inefficiencies, identifying safety and legal issues, and managing and distributing inventory (in this case recycled plastics, paper, aluminum, and cardboard) to maximize product sales. 
Grant Hamby writes in his workweek summary, "Ben Bishop's main goal is to make recycling profitable. To do so he needs to expand his storage and replace a worn bailer. This informed me about the need to continually update equipment to become faster and more efficient in today's age. Ben manages the sales of recycled goods with a broker for simplicity and efficiency. This removes some transportation cost and the stress of possible complications with selling the product on his own. Another profitable margin is to sell goods when they are in highest demand while sometimes he has to sell at a lower price to create more storage."
---
Touring Quality Flooring
with Andy Houser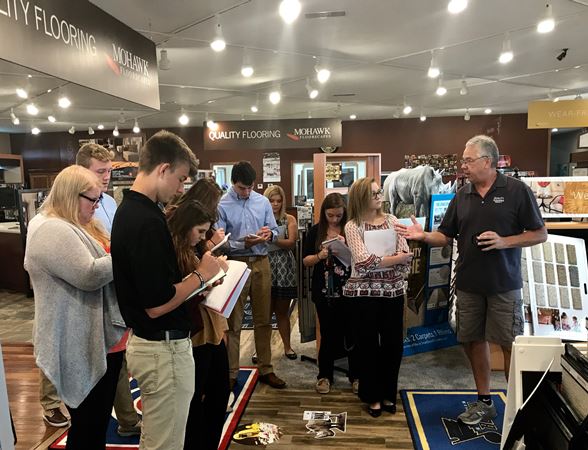 Andy Houser gave CEO a tour of Quality Flooring on the west side of HW16. The drive was worth it as the team learned about a specific product and its manufacturing process, distribution, invoicing, and sales. As a business that has suffered tragedy Andy also shared about customer loyalty and how small commuities make a big impact - both in business and in people's lives. 
Grant Hamby shares in his workweek summary, "I found a lot of things I can apply to my future business when we toured Quality Flooring. Andy Houser was a very good carpet salesperson. One of the things that stood out to me was that customer satisfaction is always number one.Customers buy products and are satisfied when a salesperson has strong product knowledge, a competitive price point, and offers attentive, customer service. Of course, if anything goes wrong it is important to not make excuses, make it right."
---